Introduction
Not having used an air cooler for a few years now, I always remained curious about the performance of the Noctua air coolers. I used to have the famous Cooler master Evo 212 which did pretty good on my 4790K. After recently taking a look at their Chromax fans, I got a chance to review a Noctua cooler. Not just any cooler, but the NH-D15 Chromax Black Swap. This is the beefiest cooler Noctua has in its line-up at the moment. Not only did they send me this big boy, they also included their NT-H2 thermal paste and two boxes of Heatsink covers, which helps you match the cooler in style with the rest of your build.
Specifications
Images

Cooler Specification Noctua NH-D15 Chromax Black
Intel LGA1700 (included since Q4 2021, older coolers require NM-i17xx-MP83), LGA1200, LGA1156, LGA1155, LGA1151, LGA1150, LGA2066, LGA2011-0, LGA2011-3 (Square ILM) & AMD AM4, AM5
Height (without fan): 160 mm
Width (without fan): 150 mm
Depth (without fan): 135 mm
Weight (without fan): 980 g
Height (with fan): 165 mm
Width (with fan): 150 mm
Depth (with fan): 161 mm
Weight (with fan): 1320 g
Material: Copper (base and heat-pipes), aluminium (cooling fins), soldered joints & nickel plating
NSPR: 183
Max. TDP: see NSPR
Fan compatibility: 140x150x25 (with 120mm mounting holes), 140x140x25 (with 120mm mounting holes), 120x120x25
Scope of delivery
Black NH-D15 heatsink
2x NF-A15 HS-PWM chromax.black premium fan
2x Low-Noise Adaptor (L.N.A.)
4-pin PWM Y-cable
NT-H1 high-grade thermal compound
Black SecuFirm2™ Mounting Kit
Noctua Metal Case-Badge
Warranty: 6 Years
FAN Specification
Model: 2x Noctua NF-A15 HS-PWM chromax.black
Bearing: SSO2
Max. rotational speed (+/- 10%): 1500 RPM
Max. rotational speed with L.N.A. (+/- 10%): 1200 RPM
Min. rotational speed @ 20% PWM (+/-20%): 300 RPM
Max. airflow: 140,2 m³/h
Max. airflow with L.N.A.: 115,5 m³/h
Max. acoustical noise: 24,6 dB(A)
Max. acoustical noise with L.N.A.: 19,2 dB(A)
Voltage range: 12 V
MTTF: > 150.000 h
Measurements & Clearance of Noctua NH-D15 Chromax Black Swap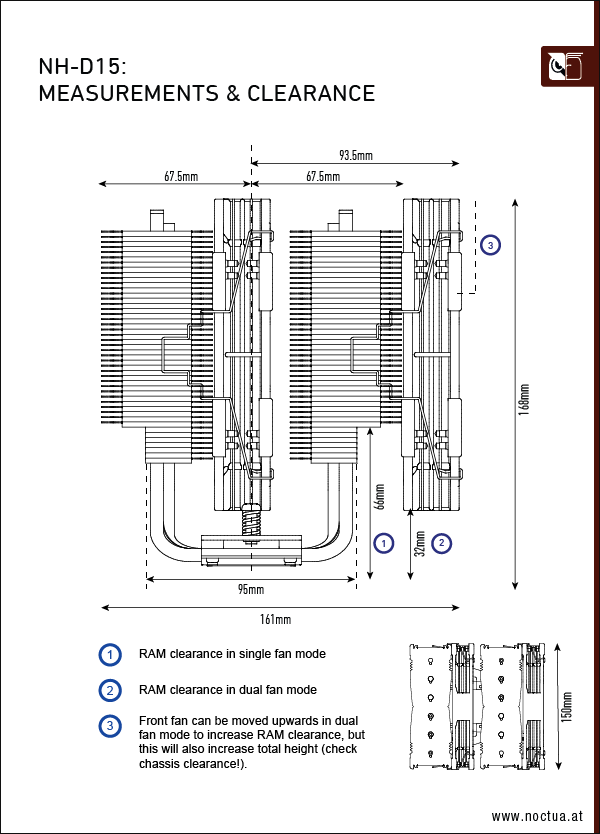 Unboxing the Noctua NH-D15 Chromax Black
Opening up the large black box reveals a nicely organised set of separate packages. There is of course a large box which houses the cooler itself. One of the two included fans comes pre-mounted whereas another is packaged separately. Lastly there is a box containing all of the included accessories. Noctua delivers a very complete package here for both Intel and AMD systems. Not only do you get all the relevant parts to mount the cooler to modern AMD and Intel sockets, you als get extra's like a case badge, low noise adapters, and a syringe of the high quality NT-H1 thermal paste.
Taking a closer look
The NH-D15 Chromax makes a solid impression. Everything feels sturdy, no flimsy feeling fins and everything is made in a solid black color. They didn't forget the heatpipes either which I can appreciate. It's this attention to detail that makes Noctua set itself apart from other brands. The one thing not being painted black is the nickel plated copper baseplate. The baseplate looks very smooth and almost like a matte mirror. Nice!
Installing the Noctua NH-D15 Chromax on a X570 board
The right tools
Noctua included all the tools I needed for my AMD system. If you happen to buy a new cpu in the future Noctua will almost certainly be able to provide you with any needed mounting system. Just contact them and they will be happy to send out the right bracket for you. This is a great service and gives the consumer the reasurrence they make a good investment with this cooler.
Cooling Paste
Noctua included a syringe of their well knows NT-H1 thermal paste. I did however used the newer NT-H2 paste which Noctua included in the package they send to me. This is an improved version which should keep temperatures even better in check while using it on high end processors. I wiped off almost all of the thermal paste on my cpu. Using the NA-SCW1 alcohol wipes Noctua provides with their thermal paste I was able to get every last bit of residue off my cpu. The Cooling paste itself was easy to apply.
Difficulty of installation
Installing the cooler was quite easy. The hardest part was keeping the backplate from the AMD motherboard in place. In the past I had horrible experiences with installing air coolers. I couldn't reach the screws, the fan mounting system was terrible or I cut myself on sharp fins. Installing this cooler went pretty fast. It only needed two screws to mount down on the baseplate. There was a large screwdriver included in the package which came in handy here. The fans could be easily clipped in place and I used the included Y-splitter to mount the two fans to my CPU-header.
Heatsink Cover
The heatsink cover was pretty easy to add to the cooler. You just choose the colored strip you want put and put at the back of the unit that clips on the cooler. Then it's just a matter of putting the metal cover on top. Everything sits secure and well thanks to the build in magnets.
Performance
In all honesty I didn't think an air cooler could come anything near my Arctic Liquid Freezer II , which is considered as one of the best AIO's at the moment. Well I was very pleasantly surprised. I didn't get the same temperatures, But I got much closer than I expected. I set all the fans in my system at which gave me very good results without being too noisy. With these settings I wasn't bothered by the sound of my system standing under my desk.
Temperatures and results
When running Cinebench R23 the maximum temperature of my CPU got to 72°C. When doing a Timespy run the results weren't too far off from my run with the 280mm mounted on top. After removing one of the top exhaust fans, I got even better results. The difference was only 4°C compared to the AIO. Do note that an AIO comes with the potential risk of leakage!
Final Looks
Well looks are personal and beauty isn't everything they say. But Personally I think this is one of the most aesthetically pleasing builds I have made so far! But don't take my word for it, take a look for yourself at the picture below. I have added the Noctua NF-A14 Chromax Black Swap fans from my other review to make the build complete.
Conclusion of the Noctua NH-D15 Chromax
The Noctua Chromax NH-D15 is a true beast. Not only does it look like one, it also cools like one. Keeping the temperature of my 5900x in tests like Timespy just 4°C lower than one of the best selling 280mm AIO coolers is very respectable. The cooler, despite being big is quite easy to assemble thanks to the well made manual and choices made in the design.
The cooler comes with well packed and with everything you need to install it on your favorite processor. The included NT-H1 cooling paste is one of the best on the market. If you want even better results you can buy the new NT-H2 paste.
The price is higher then some of its competitors but buying this cooler is an investment which will be sure to cool not only your current CPU but also the ones in your future builds. This is thanks to Noctua's commitment to its customers, providing mounting plates for future sockets when needed.
I can highly recommend this cooler and to anyone looking for a high quality, maintenance free cooling solution.